This post may contain affiliate links for products I recommend.
Before I started at the KingsBottle wine cooler reviews I did a little research if it was worth my time to add it to the reviews of wine coolers I did.
I was surprised by the large number of good reviews and ratings I found, so I decided to go for it.
Although only being around for 10 years in the wine fridge business they have established a good reputation with their products.
What I like is that they have so much confidence that they offer a 2-year warranty from the day of purchasing one of their wine refrigerators.
They are located in Santa Fe Springs in the heart of California's wine counties.
In a Hurry? Find all Wine Coolers from KingsBottle Here!
If you prefer to look at Amazon for them. You can find them here!
KingsBottle Wine Refrigerator Models
It seems to me that they have listened to their customers and have done some market research since they cover about any size or model you can think of.
Single zone
Dual-zone
Under Counter
Upright
24-inch wine coolers
The 24-inch KingsBottle wine coolers are available in single-zone and dual-zone.
The models are mainly under-the-counter wine fridges but if I look at them they can also be used as stand-alone in my opinion.
Besides that, they have several widths and heights in this category.
24″w x 24″d x 34″h
24″w x 27″d x 56″h
24″w x 24″d x 72″h
Upright wine coolers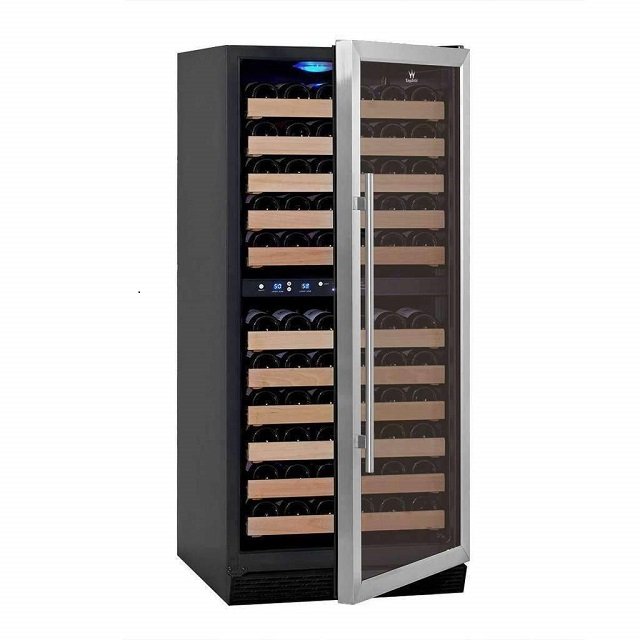 The upright KingsBottle wine coolers are also available in a few sizes and configurations.
166 bottle single-zone
164 bottle dual-zone
100 Bottle single-zone
100 bottle dual-zone
Under-counter wine coolers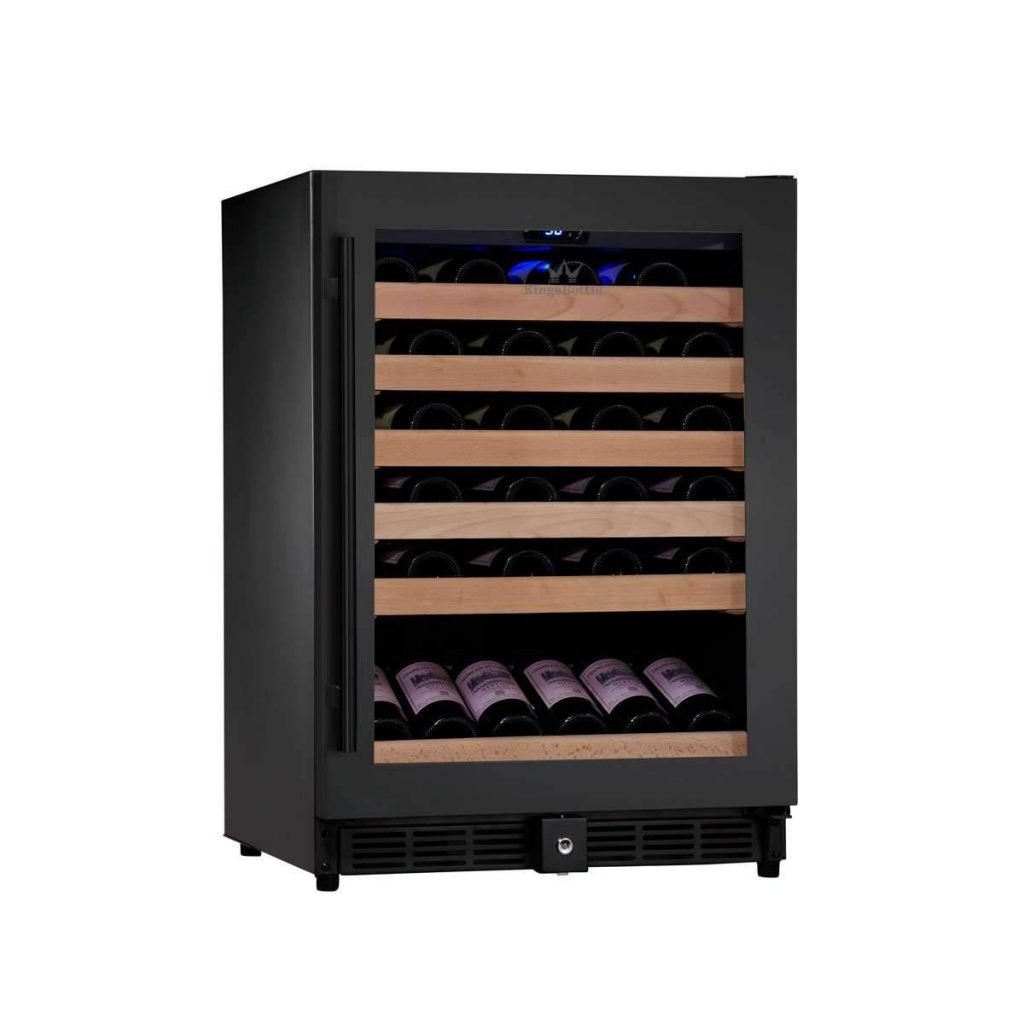 These are actually part of the 24-inch wine refrigerator models I mentioned above.
There are two models in this category.
24″ dual-zone
24″ single-zone
What surprised me is that they both hold 46 bottles since most of the time dual-zone holds a few less than single-zone.
Are you ready to have a look at the KingsBottle website? Click Here!
If you prefer to look at Amazon for them. You can find them here!
KingsBottle Features
Temperature controls: There is a small difference in the single and dual-zone for the controllers.
The single-zone is equipped with the Carel control module. One of the best controllers made by the Carel company in Italy.
The dual-zone comes with the same controller but is set up with a dual board to ensure separate temperatures.
Embraco Compressors: The quality of a wine fridge is determined by the quality of the compressor used.
The Embraco compressor has the following features and pros.
Vibration-free
Uses R600a a natural gas
Ozon layer friendly
Up to 40% less energy use
Full 2-year warranty: The KingsBottle stands behind its products with a warranty that you do not find too much in these appliances.
One of the reasons I did this KingsBottle wine refrigerator review is that I was only able to find reviews of individual models and a full article with all models I was not able to find.
My opinion about KingsBottle wine coolers
After doing the KingsBottle wine cooler reviews and a lot of reading on many websites and wine forums to form myself an opinion I think that Kingsbottle is a nice quality wine refrigerator for an affordable price.
I read a few negative reviews, but most of the ones I found are positive, and would recommend this brand to friends and family.
What I like is that they have several sizes and models and that makes it easy to choose the model and capacity you need for the wine collection.
Overall I read that the compressor is pretty quiet and the energy consumption is low.
Find all models and features here on the KingsBottle website. and Here on Amazon
If you have an opinion or other things to add to this article feel free to leave it in the comments.
Eddie McVay
As a passionate home brewer of beer and wine and an amateur connoisseur. Eddie McVay has a fast experience in the subject and shares all his tips here on this website. You can read more on this page about Eddie McVay