This post may contain affiliate links for products I recommend.
A Kalamera wine cooler is well-known and of very good quality. I will do many Kalamera wine cooler reviews to provide you with the best choices to keep your wine at the perfect temperature and humidity.
While these wine refrigerators have been around for some time, modern technology has made them much better. The Kalamera Wine refrigerator(1) has been creating quite a buzz in this field.
As wine refrigerators are a costly investment, I will do this review in a detailed manner so that you can have a clear picture of the pros and cons of this Kalamera appliance before you go spending your money on it.
Kalamera 24 inch wine refrigerator review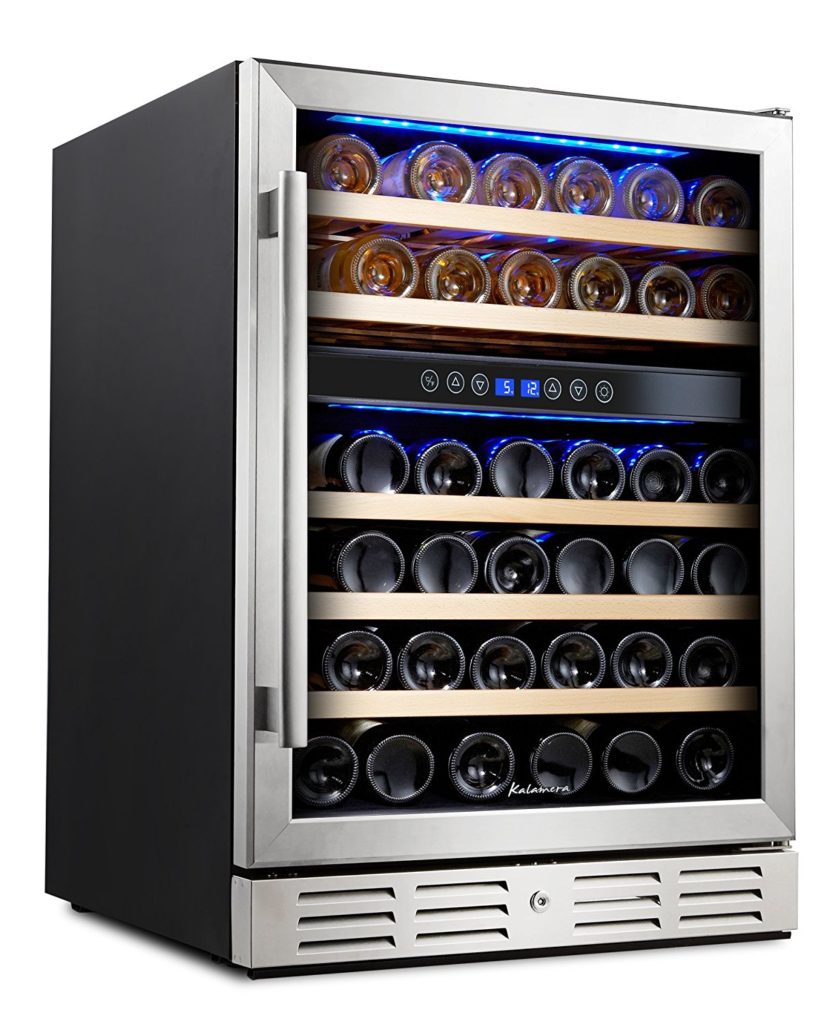 This Kalamera wine fridge holds 48 bottles.
Main Features
22.4 x 23.4 x 33 inches
stainless steel
Built-
110 volt – 90 watts
Door Hinges Reversible
Upper zone: 40-50°F, lower zone: 50-66°F
Our opinion about the Kalamera 24″ wine fridge
A quick look at the opinions of the people who have used it reveals that the common consensus is that it is one of the most versatile appliances of its type. The easily accessible trays can be pulled out and different temperature zones allow the wine to be enjoyed at different temperatures. The LED lighting which can be customized to quite an extent also is a great hit with its users. With an overwhelming 81% of buyers rating it 4 stars or more, this refrigerator is definitely worth considering if you are on the lookout for a wine refrigerator. I will look at all the features in detail now so that you will get an idea of what you will be getting in return for your money.
Stainless steel construction
Another point where this wine refrigerator scores highly is the way in which it has been built. It uses high-grade stainless steel as the main material of construction. It gives the refrigerator a clean look while being corrosion free and strong enough to be able to take a few bumps without getting any ugly dents or scratches.
5 shelves
The 5 shelves are made from beech wood which gives it the classy look that goes really well with wine bottles while being able to hold the wine bottles very well. They slide out easily making them very accessible. On the other side of the shelf, there are stoppers that prevent the wine bottles from rolling out. The glass in the front is specially made to reflect ultraviolet rays which means that this refrigerator will be able to cool efficiently even when exposed to direct sunlight which might be the case when it might be used as a display for wines. The door is also reversible and comes equipped with a security lock.
Compressor
Looking at the heart of this refrigerator, its compressor, and cooling units I am glad to let you know that it doesn't just look good but packs quite a punch. The compressor is a heavy-duty unit that ensures proper and quick cooling while being very efficient with its energy consumption. It also has additional hardware intended to reduce the vibrations to a minimum. So even if it is installed in a quiet home environment, you won't have to put up with the annoying whir generally associated with cooling units. It is also quality tested to ensure long operating life even when used continuously.
Dual temperature zones
A cool feature of this wine refrigerator is the smart digital control it comes equipped with. As I told you earlier, this refrigerator has two zones that can be set to different temperatures. The upper zone can be set to temperatures between 40 and 50-degree Fahrenheit which are perfect for white wines while the lower zone can be set to temperatures between 50 and 60-degree Fahrenheit which are more suited for red wines. All these settings are controlled by the digital controller which is clearly labeled and easy to use best of all, it remembers these settings even in the case of a power outage and as soon as the power is restored it cools the interiors to the temperatures you had set.
Installation
Coming the working of the refrigerator, it cools very efficiently once it is in regular use. It does not exactly plug and play and you will have to wait approximately 48 hours. For the first 24 hours it has to be allowed to just sit upright and for the next 24 hours it has to be plugged in and run empty and then it is ready to accept wine bottles. Once this hurdle is cleared at the start, it works like a charm and keeps the wine chilled and tasting great. There are enough fans on the inside to ensure that every nook and corner is properly ventilated and cooled.
Maintenance
Now I will look at its maintenance. It is quite natural that over time the interiors and the exteriors would need cleaning. This can be easily done on this refrigerator. All you need is a wet cloth and some patience. All you have to do is empty the refrigerator and pull out one shelf at a time and give the whole thing a nice wipe down. Cleaning the exterior is as simple as it is going to get.
Capacity
It does list a 46-bottle capacity. I will make that a bit clear for you. This capacity is based on a typical Bordeaux bottle. The 5 shelves can each hold 8 bottles while the bottom part of the refrigerator can hold an additional 6 bottles. This capacity is more than sufficient for any home and most restaurants. The LED lighting sweetens the deal and coupled with the beechwood shelves gives the refrigerator a look that is the perfect blend between modern and classy.
Energy use
A common concern when buying a large electrical appliance is its energy consumption. I can put these concerns to rest as the Kalamera 24" Wine refrigerator is very energy efficient. The compressor runs only for short duration even when the door is frequently opened without affecting the temperature on the inside. This is achieved by the clever design of the interiors and the strategic placements of the fans which keep the cool air inside the refrigerator. The LED lighting system also consumes very little electricity. Overall it consumes just 90 watts of power. Add to that the excellent customer service and this is one of the best wine refrigerators out there.
Where to buy the Kalamera 24 inch wine cooler
So if you want a quality wine refrigerator that looks cool and classy, cools efficiently, consumes minimum energy, and is price reasonable then the Kalamera 24" Wine refrigerator is worth a look as it achieves all of these in style.
We have found a great price on the largest online store and you can go click on the next link to see the price.
Click here to see the price
Kalamera 12 inch wine refrigerator review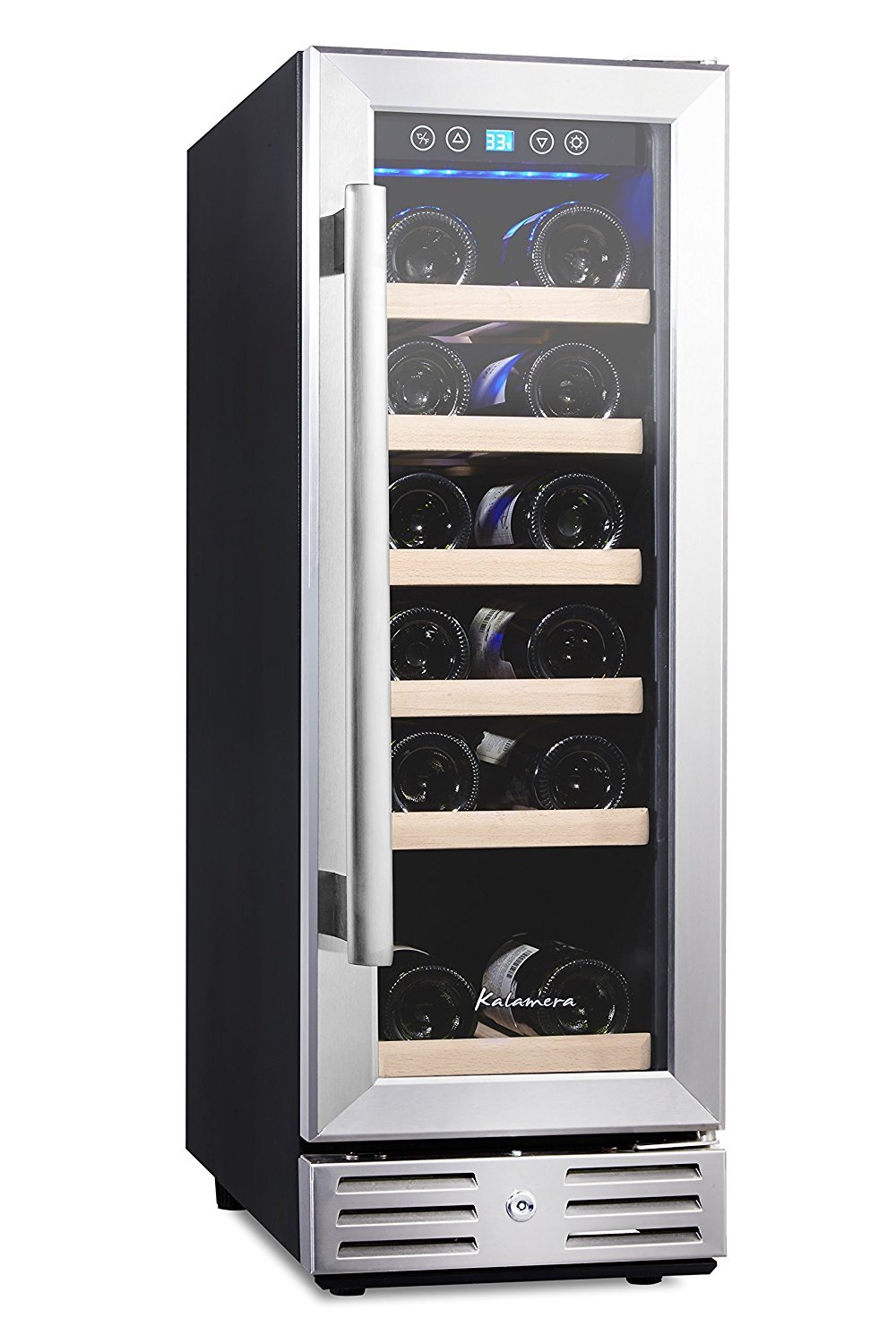 This Kalamera wine fridge holds 18 bottles.
Someone mentioned that this is the smaller version of the 24″ but I think you can not compare them although they have some of the same features. The 12-inch Kalamera has one temperature zone compared to the 24″ has two.
Main features
22.4 x 11.6 x 33.9 inches
40-66°F
built-in
stainless steel
110 volts – 98 Watts
Door Hinges reversible
My opinion about the Kalamera 12 inch – 18 bottle wine cooler
After reading through all the specs and features I found that this is almost like the 24-inch but than the built-in version and smaller.
The shelves have the same functionality and design for easy storage and opening to get a bottle of wine from it.
We will dig a little deeper later but for now, we recommend this as a good buy.
Where to buy the Kalamera 12-inch wine cooler
If you think you need another brand you can look at another wine bottle cooler that will fit your needs better.
Eddie McVay
As a passionate home brewer of beer and wine and an amateur connoisseur. Eddie McVay has a fast experience in the subject and shares all his tips here on this website. You can read more on this page about Eddie McVay