This post may contain affiliate links for products I recommend.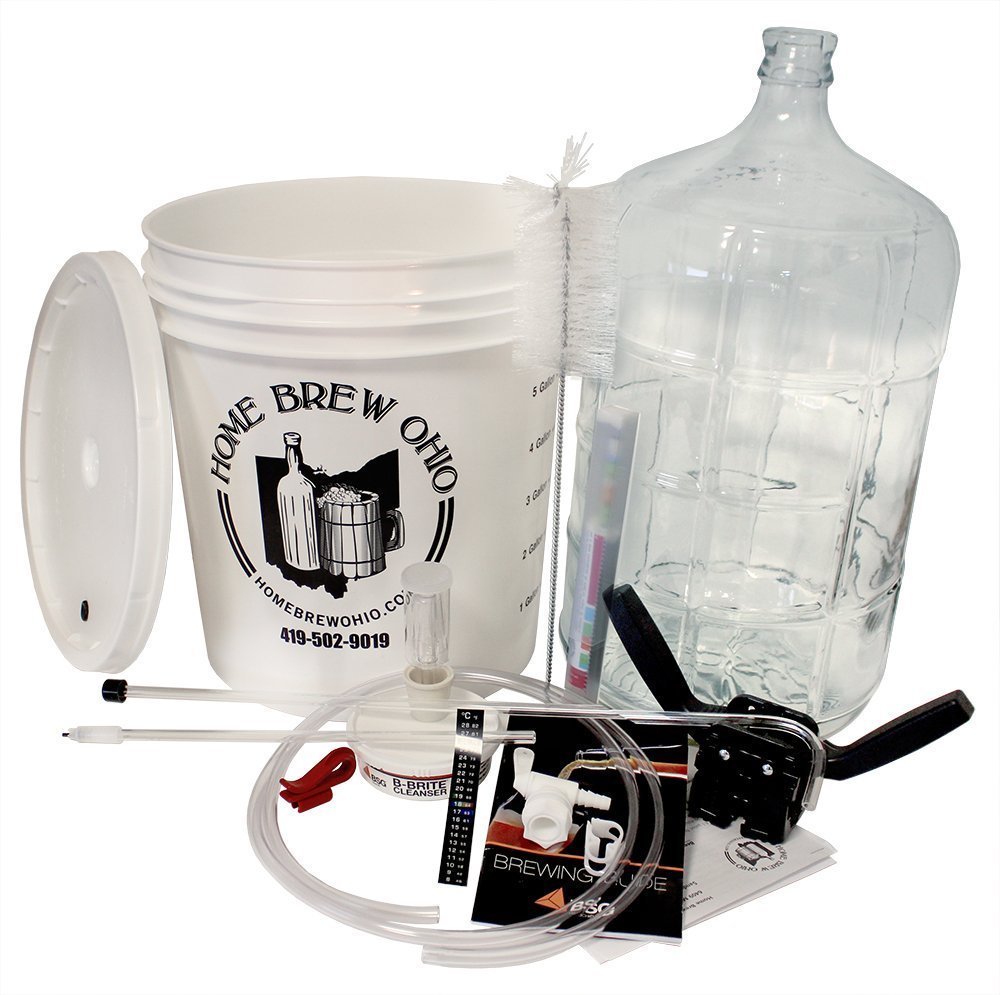 This beer brewing kit from monster brew home supplies comes with all you need to start your first 5-gallon batch of homemade beer.
This monster brew gold kit contains the following items
6-gallon fermenting carboy
step by step instructions
6 Gallon Bottling Bucket with Spigot
Bottle Capper
Small Packet of Sanitizer
Small Container of PBW-Similar product for cleaning
Siphon
Hydrometer
This kit does not come with the ingredients to start a batch. You have to pick your own ingredients and you can find them here >> Find tons of beer ingredients kits here. <<
Customer review for this Monster brewing gold kit
"The kit came in a nice box that was perfect for wrapping as a gift. It had everything listed and everything seems high quality, it even came with a small homebrew beginners book that should be enough to get you to make the first batch, however I would eventually recommend buying 'The Complete Joy of Homebrewing' as most homebrewers consider it the bible of brewing. I have just bottled my first batch of beer and everything worked great, now I have to stare at it for 2-3 more weeks as it conditions…"
"I ordered this for my boyfriend's birthday. He's been using a kit that he borrowed from a friend, but has been wanting his own after taking a beer brewing class in school. He was actually bottling the night that it came in, so he was able to use it immediately. Nothing was broken, as I had seen a few people mention in the reviews and came nicely bubble wrapped for protection. The carboy is a nice thick glass…(read more here: Monster Brew kit)"
Cons of this Kit
The cons I found is that the bottle capper is not working too well, but some others mentioned no problem with it.
So I think that if you have problems you should contact the manufacturer for a replacement.
You still have to buy the ingredients to make your first batch
You can find all my homebrew beer kits and reviews here.
Eddie McVay
Eddie McVay is a passionate home brewer and an enthusiastic amateur connoisseur, He has been crafting his own beers and wines for over a decade. His journey began with a simple home brewing kit and has since evolved into a deep understanding of the intricacies of brewing. With a knack for making complex brewing techniques accessible to beginners, his articles offer a blend of practical advice, DIY tips, and insights into the art of fermentation. Read more about Eddie Mcvay here.